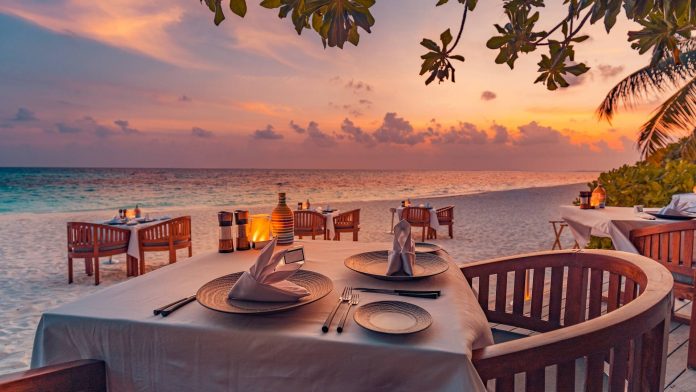 We all want restaurants to thrive. The travel industry depends on them (unless if you're renting a place with a kitchen), and more often than not, the chefs at these places are better cooks than we are. And sometimes we just want to sit down and enjoy the fruits of someone else's labor. The pandemic was hard on restaurants, which often had to configure outdoor dining or pump up their delivery service. But a new "state of the restaurant industry" report based on Yelp data suggests that dining out is thriving. The report compares data from April 2022 to March of this year compared to April 2021 to March 2022.
There are plenty of new restaurants opening, with many of them embracing the pop-up business model which lets them be bold in menu development given that the timeframe is temporary. In fact, there's been a 105 percent nationwide increase in pop-up restaurants since last year, while ramen and noodles spots increased by 45 and 40 percent, respectively.
A cool map at the report website shows each state and what category it increased and declined in most over the last 12 months. Nearly every state increased its nightlife or arts/entertainment venues, while beauty/spas and shopping saw national declines. The two states that grew most with hotels and travel were Florida and Wyoming, while the two that grew most in the food category were Nevada and Tennessee.
In terms of restaurants specifically, Connecticut saw a 7 percent increase in consumer interest in restaurants, followed closely by Massachusetts with 6 percent and Utah, Maryland, and Pennsylvania with 4 percent each.
If we look at price points—whether it's a burger flopped onto a bun or a portion of Wagyu beef lovingly plated—we see that diners are far more interested in a fine dining experience than something on the lower end. If we look at pre-pandemic levels (April 2019 through March 2020) compared to now, interest in "traditionally affordable" restaurants has declined by 16 percent, while diners embraced four and five-dollar restaurants on the rating site ($$$ and $$$$) with a 10 and 17 percent rise, respectively. Maybe all those cooking shows we watched during the pandemic made us more interested in slow foods and fine dining.
One last oddball tidbit: people are making earlier dinner reservations—a 4pm dinner reservation slot more than doubled since 2019. Maybe we've all aged, or maybe we trained ourselves to eat earlier when restaurants set limited pandemic hours. We'd like the chopped liver early bird special, please! JK JK