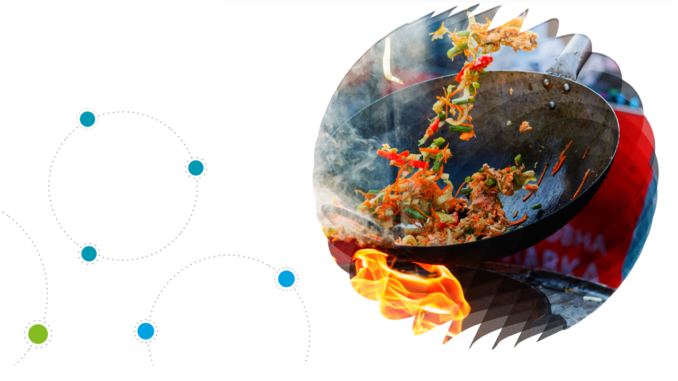 More than three years after the pandemic turned the restaurant industry upside down, many dining preferences that emerged during that time seem to be here to stay.
In its new report, "The Future of Restaurants: The New Normal and Beyond," Deloitte leveraged its Future of the Consumer Industry analysis to examine implications brought on by forces changing the industry across markets, models, and mechanics in the restaurant sector. This analysis, coupled with the results of a survey of 750 respondents fielded in March 2023 who had ordered from a restaurant within the last three months, formed the basis of this paper, which includes a number of technology-related insights.
Among these insights: The rise of third-party delivery apps drove a surge in off-premise dining over the last 10 years, a trend in the restaurant sector that intensified during the pandemic. Restaurants are increasingly catering to the demand for delivery and takeout by dedicating space on-premise for pickup orders and separate lines for takeout orders, ultimately reducing the need for dining room space. As a result, customers are likely to patronize restaurants that enable a more frictionless digital experience to place and manage their delivery and takeout orders.
While 13% of customers use third-party apps or websites to place a delivery or takeout order, 40% of customers prefer to order through the restaurant's app or website, demonstrating the importance of a restaurant owning its own digital experience.
Regardless of how an order is placed, most customers (87%) believe a delivery fee of $5 or less is fair for the convenience it brings.
As ghost kitchens, which only offer takeout and delivery, continue to become more prevalent, more than half of consumers (52%) indicated they would order from such an establishment.
Quality counts: 60% of consumers said they are unlikely to accept lesser quality when ordering takeout food.
Most patrons prefer to use the phone to address complaints, however its use has declined, from 63% in 2021 to 55% in 2023. During the same time period, customer preference for mobile chat and text increased from 20% to 27%.

Amid shifting customer preferences and economic conditions, advanced technologies are expected to shape the mechanics of restaurant operations and staffing over the next 10 years. According to the study, most guests are not deterred by automation and other emerging technologies and would continue to patronize restaurants that leverage such innovations.
Consumers aged 18-38 are 16 percentage points more likely to return to restaurants that use automation technologies than those 39 years and over (58% for 18-38 group versus 42% for 39+ group). This indicates these technologies are likely to continue to be adopted over time.
Contactless delivery has maintained prominence since the pandemic, enabling faster deliveries: 53% of respondents receive contactless delivery more than half the time.
Nearly half (47%) of customers would order from a restaurant that offers delivery via drones and driverless vehicles, up from 44% in 2021.
A majority of consumers said they are at least somewhat likely to use voice automated ordering systems, including 79% for drive-thru, 74% for phone systems, and 70% for dine-in.
Acceptance of kitchen automation is on the rise: 60% of consumers noted they are somewhat likely to order from a kitchen that prepares food, at least in part, through robotic technologies, up from 54% in 2021.
Although only 19% of those surveyed had experience with a cashier-less restaurant, 62% said they would be somewhat likely to order from one if given the opportunity.