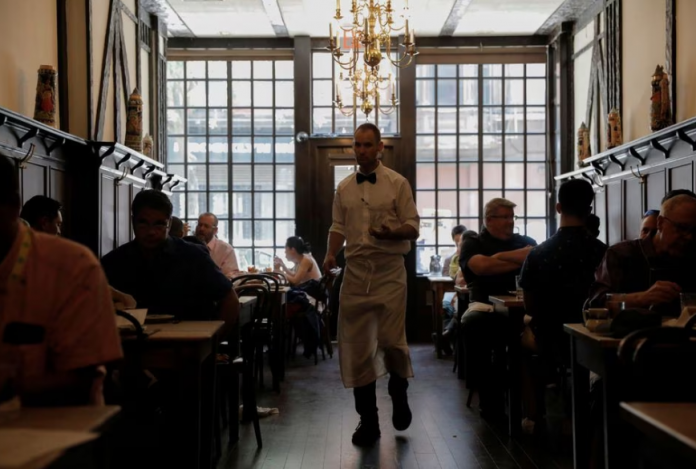 NEW YORK, May 5 (Reuters) – More job seekers are filling out applications to sling Big Macs at McDonald's (MCD.N), and Starbucks (SBUX.O) baristas are staying in their jobs longer, as a cooling economy sends workers back to low-wage restaurant gigs and keeps them there.
"We're seeing the labor situations improving," McDonald's Chief Executive Chris Kempczinski said during a quarterly earnings call last week. "In the U.S., they've made a lot of progress on staffing in the restaurants."Advertisement · Scroll to continue
The broader labor market remains strong overall. The household unemployment rate dipped to 3.4% in April, the U.S. Labor Department said on Friday, and nonfarm payrolls grew by 253,000.
Leisure and hospitality hiring for the month grew by 31,000 jobs, which is slower than the six-month average of 73,000 jobs per month. Employment in the industry is still 2.4% below pre-pandemic levels, however, part of the effects of restaurants shutting during the pandemic.
"We're seeing application rates increase, retention rates continue to increase, and our staffing levels are back to, at or near 2019 levels," Yum Brands (YUM.N) Chief Financial Officer Chris Turner said during the company's quarterly earnings call on Wednesday. Yum owns Taco Bell, Pizza Hut and KFC brands.
Once the economy rebounded, many fast-food workers quit grueling, low-wage jobs to work in booming sectors that paid more and were desperate for workers, including in transportation and warehousing.Advertisement · Scroll to continue
The restaurant industry shed millions of jobs. Chains from IHOP (DIN.N) to Burger King (QSR.TO), (TAST.O) expected to remain perpetually understaffed for the foreseeable future – especially amid a post-pandemic boom in demand for dining out.
But now, inflation-wary consumers are buying fewer motor vehicles and other expensive purchases, pressuring manufacturers and retailers.
As retail demand softens, "a lot of unskilled labor that went there is now making its way back to our industry in general," Scott Boatwright, chief restaurant officer at Chipotle Mexican Grill, said in an interview last week. "We're getting more than our fair share of that labor pool."
As of April, there were 12.25 million people working in the food services industry, the U.S. Labor Department said, just a shade under the 12.34 million peak in February 2020, just before the pandemic broke out in the United States.Advertisement · Scroll to continue
Chipotle's staffing level is at an all-time high – far above pre-pandemic levels – and retention is at its best in the last five years, Boatwright said, though he declined to disclose the company's turnover rate.
Starbucks Chief Executive Laxman Narasimhan said during the coffee chain's quarterly earnings call on Tuesday that barista turnover fell by 9% compared to a high in March 2022.
He attributed the easing to higher salaries, benefits and training, as well as investments in technology that has led to productivity gains and employee satisfaction.
Most restaurants boosted wages and benefits during their frenzy to find workers over the last couple years, which may now also be paying off.
The pay gap between the leisure and hospitality industry – historically, the lowest-paying sector – and other industries is at its narrowest since 2006, when the government began collecting the data, said Wells Fargo Senior Economist Sarah House.
In April, leisure and hospitality workers earned 63% of what workers in other industries made overall, compared to about 57% in December 2020.
Wage inflation is expected to slow in the second half of the year, said Credit Suisse Chief Economist Ray Farris.
"Companies are going to be able to be a little more selective," he said, "and potential employees are going to have to be a little more flexible."
Published By: Reuters