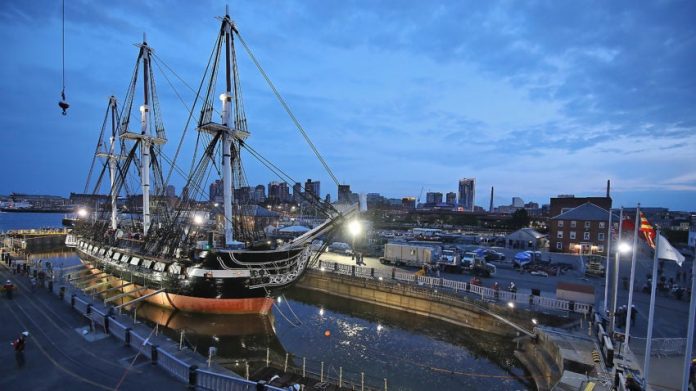 Find your sea legs: The city has approved a proposal for a floating restaurant at Charlestown Navy Yard, scheduled to open this summer.
On Friday, the Boston Planning & Development Agency announced in a press release that the agency and Mayor Marty Walsh had approved three Charlestown Navy Yard proposals for summer 2019: a pop-up community gathering space, free outdoor programming from the Navy Yard's USS Constitution Museum, and a temporary floating restaurant operating out of a tall ship.
The Navy Yard Hospitality Group — a Charlestown-based company that also owns Pier 6 on the Charlestown waterfront, Mija Cantina in Faneuil Hall, and Reelhouse in East Boston (which is soon expanding to Quincy) — will operate the ship's restaurant, which also will include a lighting installation connected to Shipyard Park.
While the floating restaurant is still in the very early stages of planning, Charlie Larner, president of NYHG, confirmed the launch of the concept.
A key component of Imagine Boston 2030, Walsh's citywide initiative to improve quality of life and drive growth in Boston, is the activation of waterfront space. The accepted Charlestown proposals are slated to operate on a trial basis from May to October, at which point the success of each activation will be evaluated. In addition, a percentage of sales from each revenue-generating concept will be returned to the community through free public programming and an investment in the public open space.
"By bringing activities for people of all ages to the Navy Yard, we hope to encourage a more inclusive and equitable waterfront for Boston's residents and visitors to enjoy," Walsh said in a press release. "The Navy Yard is a place of national historic significance, and we are pleased with the creative proposals we received and the selections that will be moving forward this summer. We look forward to continuing to work with the community to ensure that the Navy Yard is a welcoming public space, while celebrating and respecting its history."