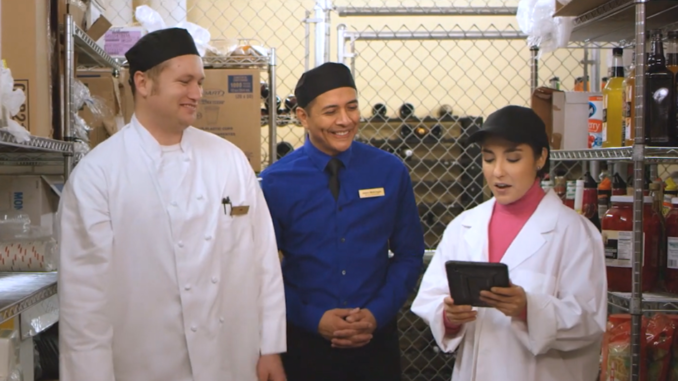 It's been another disruptive year for the restaurant industry. While the pandemic is thankfully over, its ramifications – product shortages, supply chain interruptions, and stiff competition for workers – continue. In 2022, we've also experienced food production challenges, stalled exports out of Ukraine, and extreme weather destroying crops. Plus, inflation is soaring, with the price of consumer goods hitting a 40-year high.
But there is some good news. Trends for 2023 look positive, with the restaurant industry prioritizing sustainability, transparency, safety, quality, and accuracy. Also promising: technology solutions will help brands of all sizes elevate their operations in the new year.
I predict the following trends for 2023:
A bigger focus on sustainability. Shuggie's, a climate-friendly restaurant in San Francisco, passionately prioritizes sustainability. They pride themselves on "rescuing" ingredients that would have gone to waste, including irregular or surplus produce, food byproducts, and meat offcuts, using these items for their "upcycled" menu. The National Restaurant Association predicts that zero waste, sustainability, and upcycled foods will trend in 2023, and I agree wholeheartedly. Technology will be instrumental in driving sustainability, helping us develop more sustainable ways to produce food (like vertical farming), find better ways to reduce waste, and reduce our dependence on foreign exports. In 2023, we'll see forward-thinking restaurants boosting sustainability in creative, new ways.
Adoption of smart tech solutions. Many restaurants implemented tech solutions out of necessity during the pandemic. In the coming year, more restaurants will feature paperless menus, touchless payment, self-service kiosks, and other tech conveniences. It will also be exciting to see brands implementing AI, machine learning, and automation to elevate the customer experience.
Loyalty programs will grow. It costs five times as much to recruit a new customer as it does to retain an existing one. Therefore, we'll see a growing emphasis on increasing customer loyalty. Many brands have already implemented loyalty programs – e.g., buy 10 sandwiches and get the 11th free – but now they'll leverage technology to boost customer engagement, incentivizing customers to visit and buy. Additionally, implementing gamification strategies will make rewards even more enticing.
Staff retention is essential. After years of staff shortages, brands will prioritize their employees in 2023, working diligently to keep them happy. For instance, more operators will use scheduling software to ensure their employees are getting their preferred shifts – and aren't being overutilized, which could lead to burnout. Brands will use competitive wages and attractive benefits packages to maximize staff retention. And they'll look for other ways to show their appreciation for employees, including tuition reimbursement, advancement opportunities, and more PTO. Increasingly, restaurants will move away from "the customer is always right" and will opt to close early or take other measures to deal with rude, inappropriate guests, standing in solidarity with their workers.
Restaurants will take delivery in-house. The popularity of delivery soared during the pandemic when consumers were unable (or unwilling) to dine out, and that trend will continue. However, expect to see more brands taking delivery in-house vs. relying on third party delivery companies. If your restaurant uses external delivery services, you have no control over the safety, quality, or customer experience once the orders leave your premises. Considering that a recent study found that eight in 10 food delivery drivers ate part of their customers' orders, taking delivery in-house may be a wise move! Expect to see more brands manage their delivery to ensure high quality and exceptional customer experiences.
Accuracy is king. Incorrect orders are a top complaint among customers. One wrong order can prevent customers from returning, and one unhappy customer can spread scathing reviews across the Internet, damaging customer loyalty, sales, and your reputation. Tech tools help identify critical components that impact accuracy, including number of employees per shift, whether special requests are being properly identified, etc. Be sure that all employees know how to use your ResTech correctly and are leveraging these tools to maximize accuracy.
Increased transparency throughout the supply chain. Even if your restaurant is prioritizing safety and quality efforts, are all your suppliers aligned? You could be following proper protocols, but if a supplier brings you contaminated products, you're at risk for a foodborne illness outbreak. Use tech tools to manage supplier certifications, so you can clearly see which suppliers prioritize safety and quality – and avoid the ones that don't.
Train differently (and better). It's common to train employees by telling them what to do and how to do it. The trend for 2023 will be to train employees differently. Instead of just telling employees what to do, explain why the rules are in place, and they'll be more likely to comply. Also, transform from a punitive culture – where employees fear punishment if they ask questions or point out infractions – to a collaborative one, where everyone works together to uphold high safety and quality standards. Use tech tools to provide information in bite-sized chunks, amplify training efforts, and reinforce knowledge.
Utilize a "combination approach" for auditing. The pandemic meant an end to in-person, third-party audits as we knew them. But restaurants found alternative ways to audit during COVID, including remote audits done via Zoom and more frequent self-inspections. Brands will continue using this combination approach of in-person and remote audits plus more frequent self-assessments to ensure their locations are compliant. This means they can protect locations even if travel or cost restrictions prohibit regular onsite third-party audits.
Improve the hybrid model. Consumers have become accustomed to the hybrid of in-person, pickup and delivery models, so restaurants must offer – and excel at – each of these models. Implement proper quality and safety protocols whether your guests are dining onsite, picking up their orders, or having meals delivered. Ensure that all your employees understand your safety protocols and inspect each meal all along the production line to ensure safety, quality, and accuracy.