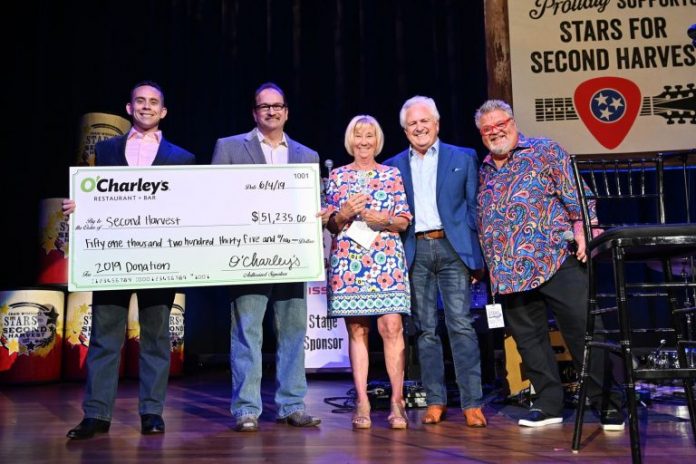 O'Charley's Restaurant and Bar announced a $51,235 donation to Second Harvest Food Bank of Middle Tennessee at last night's Stars for Second Harvest gain concert at Nashville's ancient Ryman Auditorium. With this state-of-the-art donation, O'Charley's has now surpassed $600,758—the equivalent of 2.4 million meals—given to the nonprofit.
Country song celeb Keith Urban led the O'Charley's sponsored event and joined acclaimed hit songwriter and founder of Big Loud Records and Big Loud Shirt, Craig Wiseman, for a night of music at the 15th Annual Stars for Second Harvest benefit concert.
Country singer-songwriter Madison Kozak, 12-year-old superstar Mason Ramsey, songwriter-artist HARDY and songwriter Lee Miller also took the stage. Proceeds from the live performance benefit Second Harvest Food Bank of Middle Tennessee in their efforts to feed hungry human beings and work to resolve hunger issues in our community.
"At O'Charley's, we are deeply committed to giving again to the communities where we operate, and we are proud to be a 15-year supporter of Second Harvest and this concert," says O'Charley's president Craig Barber. "Exceeding 2.4 million in ingredients supplied with our donation is a unique milestone for us, and we are honored to be part of such a unique night time of wonderful talent coming collectively to increase cash for this necessary cause."
"We were delighted to have Entertainer of the Year Keith Urban and an top notch lineup of songwriters and artists as phase of our fifteenth Stars for Second Harvest Show," says Second Harvest president and CEO Jaynee Day. "All of this is made possible by means of our show sponsor O'Charley's who has been with us due to the fact this match used to be created. Because of them, all proceeds go to feeding the hungry in Middle Tennessee. It was once a awesomenight for a awesome cause."
Additionally, the restaurants have a longstanding records supporting their nearby neighborhoods and encouraging community involvement thanks to initiatives like its Hometown Hero application and annual partnership with the Folded Flag Foundation, which honor U.S. navy veterans and their families.