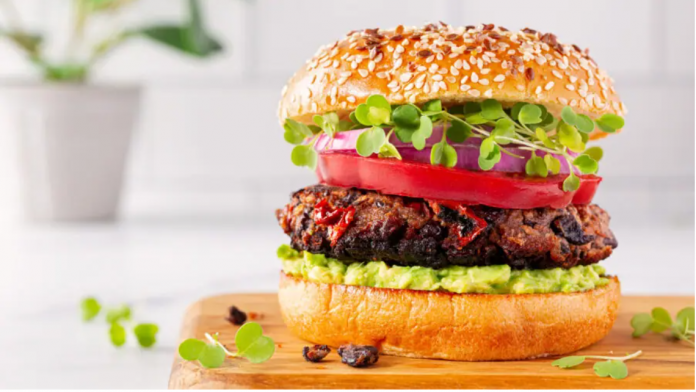 Today, Brandwatch published what it calls its latest "temperature check" of global food and beverage trends. The verdict: restaurant items in bowls are red-hot and rising. The plant-based segment, meanwhile, has cooled somewhat.
The report monitored 165 million global, public online conversations over the past year to note the latest F&B trends. Brandwatch took note of consumer opinions on topics like grocery delivery, the plant-based category, and consumer sentiment regarding restaurants.
"It's interesting to see that the changes consumers were forced to make during the [COVID-19] pandemic still influence consumer behavior. For example, more consumers are now comfortable eating alone in restaurants," Brandwatch researcher Michaela Vogl told The Food Institute.
Assessing the Plant-Based Space
Plant-based hype appears to be slowing. Online conversations regarding plant-based foods were down 7% over the past year, Brandwatch found.
Conversations about the plant-based segment, however, are more positive than negative. The report revealed that 62% of all sentiment-categorized mentions were positive, while 38% were negative.
Alt-meat is the most discussed topic in plant-based online conversations, the report revealed, followed by pizza and chocolate.
The topics that most concern consumers in conversations about plant-based protein are taste, ethics, and price, Brandwatch wrote. Interest in plant-based chocolate remains strong, with online conversations up 64 percent, the report noted, adding that the global vegan chocolate market is expected to grow from $575 million in 2022 to $1.2 billion in 2028.
Consumers are speaking most positively about plant-based milk options lately, Vogl said, noting: "Many of the headlines mention the availability of plant-based milk at coffee shops and restaurants. This is often highlighted as a positive feature or a must-have for customers. There are references to different types of non-dairy milk alternatives, including almond milk, oat milk, coconut milk, and soy milk.
The Food Institute Podcast · FI Fast Break News – July 12, 2022
"The plant-based food industry still has room to grow," the Brandwatch researcher added. "A great indicator is that while the online conversation has fizzled out, the overall sentiment of plant-based discussions remains positive. As long as companies pay attention to and adapt to consumer preferences, behaviors and trends, growth is achievable."
Bowled Over
As many fast-casual menus suggest these days, bowls have taken the restaurant world by storm. So much so, in fact, that Brandwatch declared bowls "the reigning champion of food trends."
The appeal of bowls lies in their versatility and the fact they're not limited to any cuisine or daypart. The trend has captivated consumers judging by the 800,000 mentions of the topic over the past year. Chains like Rush Bowls and Playa Bowls have seized upon the movement, selling bowls that feature superfoods like acai berries, as noted by QSR Magazine.
Coffee Fading Among Gen Zers
Coffee is the most talked about non-alcoholic beverage among baby boomers and Gen X, Brandwatch found, but it's also the least-mentioned beverage among Gen Z.
One of the report's most interesting findings, Vogl said, "is how different Gen Z drinking behaviors are compared to other generations. They don't like traditional morning coffee; they want iced coffee from a coffee shop. They prefer energy drinks to stay energized, and they're more conscious about drinking alcohol." The researcher added:
"[Gen Zers'] consumer preferences are very different, and it will be interesting to see what trends they set in the coming years."
Brandwatch's report research also noted the following observations:
Mentions of dining-out fell 33% year over year in the 12 months prior to June
There has been a surge of conversations about high-protein products (+32% YoY)
Conversations about online grocery delivery were down 4%
The top food influencer on TikTok is Lookcatchu (edging out Notorious Foodie and Gordon Ramsay), while Betul Tunc is the top food influencer on Instagram