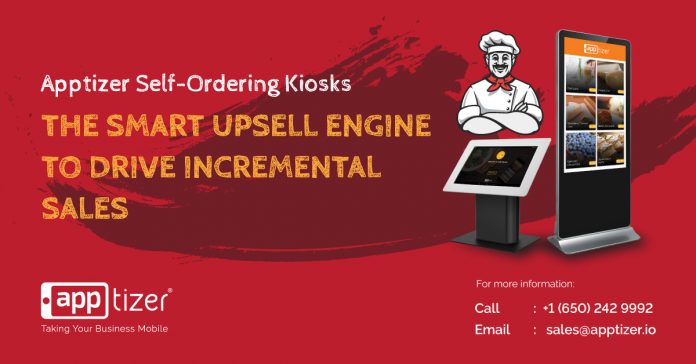 Sponsored by Apptizer
Today Kiosks increase in popularity in a wide range of vertical markets. Retailers of all types, as well as quick service restaurants, airports, hospitality, parking lots, casinos, and other places with high foot traffic are implementing kiosks for their businesses.
Apptizer's Kiosk gives a stress-free self-ordering experience to customers and staff. The kiosk engage customers with a convenient and efficient ordering, buying or check-in process. Currently, kiosks have been a powerful and a smart up-sell engine that drives incremental sales for every guest.
Kiosks help customers to complete a task at their own convenience and pace, making no errors. What a kiosk brings is the ability for users to take complete control in a fully immersive and interactive experience.
Regardless of the business size, most businesses face a problem of having limited staff members to focus on providing customers with the best experience, while juggling the other activities. With the addition of a self-ordering kiosk, even a short staffed team can easily streamline their tasks that take up most of the time and let customers handle their own orders.
Kiosks are meant to save time, so it's just perfect for industries that dubs itself as "quick service". That's why familiar names like McDonalds's and Panera Bread are spending millions of dollars to roll out kiosks in their stores.
"Panera claims 60 percent of lunchtime transactions are completed on touch-screen kiosks at one bustling, Boston-area store near Fenway Park. That same 60 percent is what some of the savviest fast-food restaurants do daily out of their drive-thru windows". (Kiosk Industry,2016)
Kiosks are absolutely perfect for the smartphone-toting millennials, who like nothing better than to take charge of their orders.
Top 7 Must-have Features You will Find on Apptizer's Kiosk.
1. A sleek and easy to use interface- the least tech savvy customers can also get around with this and would enjoy the digital experience.
2. Seamless configuration to a printer and preferred payment processor on the kiosk.
3. Customized order- Prompts for extra add-ons which can increase the average check size of a customer.
4. A simple language and clear illustrations- helps any user with understand their way through.
5. Supports multi-language – staff do not have to worry about communicating or assisting the customer.
6. Easily integrates to Smart POS systems- Orders can be received and managed through the smart POS.
All these and many more features are available with Apptizer Kiosks! Try out the Free Trial yourself to experience it yourself: They want every retail SMB, Quick Serve Restaurants to elevate the customer experience with attractive, large-scale imagery, tappable buttons, dynamic checkout process and many more.
They're here to help you and guide you throughout.
Call them on +1.650.242.9992 or email sales@apptizer.io if you are looking for an opportunity.
About Apptizer Inc.
Apptizer Inc. is a Silicon Valley-based company specializing in order-ahead storefront app-building technology that empowers mom-and-pop retailers, restaurants and SMBs to leverage mobile and kiosk channels to drive more sales, enhance the customer experience and increase loyalty, attract new patrons, speed up service and cut down on errors through high-quality digital storefronts that customers access from mobile or kiosks devices.
Mobile/kiosk apps can be created on Apptizer's website. Apptizer is also available on Clover, Poynt ,Verifone Carbon and Elo Touch.
For more information about order-ahead app creation made easy, please visit apptizer.io or follow us on Facebook, Twitter and LinkedIn.