Self-service ordering kiosks are quickly becoming the standard in most quick-service restaurants. Although the COVID-19 outbreak pre-emptively highlighted the advantages of self-ordering kiosks, their use increased even before lockdowns and social distancing. Self-service ordering kiosk sales increased 17.9% in 2019 to more than $11.9 billion. Furthermore, a survey shows that 65% of consumers prefer self-service kiosks. These numbers are not surprising given the various advantages of kiosks, such as increased order efficiency, decreased labor costs, and improved customer experience. Furthermore, kiosks may extend your brand's reach beyond your establishment's four walls, resulting in a modernized restaurant experience.
We'll dive in more to explore the advantages of self-ordering kiosks for restaurants and highlight some of the keys to selecting the best food-ordering kiosk for your restaurant.
What Is a Food Ordering Kiosk?
A self-ordering kiosk is a free-standing touchscreen gadget commonly found in restaurants that displays menu items and allows diners to make their orders and pay without the assistance of a waiter or cashier. According to the findings of this study, around 73% of customers polled prefer retail self-service technology, such as self-checkout, versus interacting with store employees. Self-service kiosks provide clients with the same digital experiences they've come to love via e-commerce sites but instead in physical locations.
What's more, these kiosks often can be linked with a restaurant's existing point-of-sale (POS) system. Some kiosks actually offer their own POS system. The biggest advantage of merging your fast food kiosk and POS system is that you can streamline all elements of your restaurant's business, from generating receipts in the kitchen to showing orders on the kitchen display system to linking to your favorite payment method.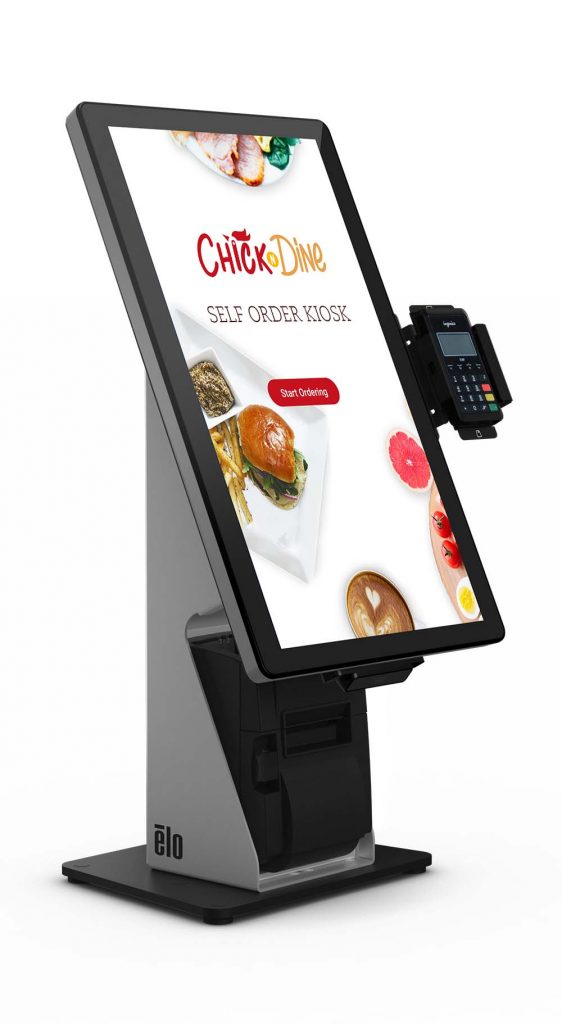 Why Are Restaurant Self-Ordering Kiosks Becoming More Popular?
Ordering kiosks are among the handiest technologies introduced by restaurants in recent times. They are not only intuitive to use, but they also cut the time consumers spend waiting in line, perhaps leading to happier customers and increased revenue per checkout.
However, self-ordering kiosks are not limited to fast food restaurants! Hoteliers are already implementing self-service features. In a 2020 study, 27% of hotels had either adopted or were in the process of introducing self-check-in options, and 42% planned to do so in the future.
Kiosks have also become commonplace in grocery and convenience stores, as well as other retailers. Earlier this year, Amazon established an automated grocery outlet giving customers the option to purchase things from a menu without having to interface with employees – simply press a button on their smartphone or tablet device and walk out the door with what they need.
Advantages of Self-Service Restaurant Kiosks
Clearly, restaurant self-ordering kiosks are clearly gaining popularity, and for a good reason. Below, we'll dive deeper into the top 9 advantages of implementing a kiosk at your fast casual or quick service establishment.
1.Increased Order Size and Sales: Many fast food restaurants implementing self-ordering kiosks have witnessed significant increases in average check sizes. According to Business Insider, McDonald's brought out hundreds of ordering kiosks as part of their digital renovation in 2017 and witnessed a 5-6% increase in sales within the first year. In the following year, they noticed an additional 2% lift in sales.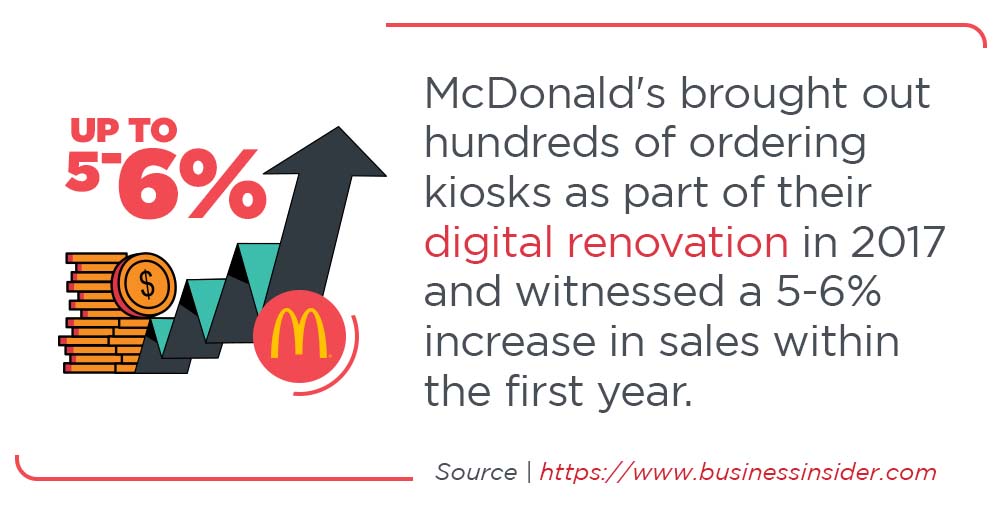 What's causing the lift? Consumers are more likely to take advantage of add-ons and special deals with gentle upsell reminders provided by kiosks throughout the checkout experience. Additionally, there is also no fear of being scrutinized by the server or cashier for their meal selections. Food-related shame, particularly fast food, may have been a powerful deterrent to larger orders in the past. Simply put, customers can now place their orders through machines, totally unencumbered by any type of judgment.
2.Increasing Ordering Efficiency: Ordering efficiency remains a challenge for quick-service restaurants, and technologies such as self-service kiosks can assist. They give real-time data critical for order prioritization, allowing your front and back-of-house to remain in sync.This might involve anticipating traffic numbers or peak order volumes at specific times of the day based on historical data, providing insights on menu options, and distributing consumers between servers/cashiers and kiosks so that neither ordering channel is overwhelmed.
3.Improving Order Accuracy: When cashiers take a customer's order, there is a potential that the order will not be accurately entered into the POS for various reasons. The cashier could have misheard the consumer, the diner could have misspoken, or the cashier could have heard the customer but pressed the incorrect key on the POS device. These types of communication challenges between cashier and client are reduced, if not eliminated, with a self-service ordering kiosk. The result is fewer orders need to be refired, which makes both customers and staff happier.
4. Solving Labor Shortages:Restaurants are increasingly encountering labor shortages. This is due to a number of macroeconomic causes and the fact that restaurants traditionally have high employee turnover. According to a 2021 survey, over 60% of restaurant operators said their workforce levels were lower than what was required, and restaurant kiosks can help food establishments suffering from limited workers stay afloat.Additionally, with the help of kiosks, there are fewer restaurant roles requiring headcount. A kiosk allows you to repurpose workers who would otherwise handle orders and to be reassigned to other jobs that a machine can't perform (at least for now).Kiosks will not replace the many advantages of your human workforce, but they may allow you some much-needed wriggle room when staffing the dreaded late-night shifts, as well as covering for personnel who may 'call out' unexpectedly.
5. Decreasing Wait Times:Using kiosks may significantly speed up your ordering process. A number of independent studies have revealed that installing kiosks cut down overall order time by approximately 40%. Customers will autonomously queue up and utilize kiosks to order conveniently and quickly, lowering wait times across your restaurant.Furthermore, many questions a consumer could ask a server or cashier can be addressed by merely pressing a key on the kiosk. For example, customers may use the kiosk to acquire information or request modifications instead of waiting for an answer regarding the ingredients in a meal, current specials, or a side substitute.
6. Upselling More: Despite being in a physical restaurant, a digital kiosk ultimately doubles as an e-commerce cart, complete with all of the UX experiences and optimizations that drive basket size. According to a study on online e-commerce stores, upselling can contribute a 10-30% lift in revenue. Furthermore, cross-selling and upselling are up to 68% less expensive than acquiring a new customer.
A restaurant self-ordering kiosk has several cross- and up-selling opportunities that non-digital restaurants do not have. This involves, among other things, bundling the purchase, automated suggestions dependent on both shopping patterns and complementary items, and time-limited deals.
7. Modernizing the Customer Experience:Consumers increasingly want tech-driven products that make searching, ordering, paying, and obtaining support easy. According to one study, the digital generation is more inclined to use self-service kiosks. What's more, 60% of polled millennials are hoping restaurants will employ technology to give nutrition, allergen, and ingredient origin information.
8.Increasing Data-Driven Decisions:Restaurant kiosks, like traditional point-of-sale systems, provide merchants with enhanced consumer analytics enhanced consumer analytics that allow merchants to better identify their most popular food items, busiest times, and their most popular order modifications and add-on products. This valuable data allows you to select which items to strategically advertise on kiosks when to operate kiosks to help clients move through lines, and which popular add-on products you can raise the price of for more income.
9.Improving Consumer and Staff Safety: When the pandemic began in early 2020, one of the primary advantages of having kiosks was on full display: kiosks facilitated contact-free operations, which helped eateries adhere to the CDC's 6-foot distance rule to combat coronavirus transmission.Generally, fast food kiosks can create a safe atmosphere for both staff and consumers. Customers may simply approach a self-service kiosk and only need to engage with employees when their meal is ready.
Key Features When Choosing a Restaurant Kiosk
While it is obvious that kiosks provide several benefits to restaurants and their diners, finding the right kiosk for your establishment is not as simple as it may appear. We'll highlight some of the primary considerations that factor into which product you choose.
Menu Building: Your restaurant kiosk software should enable you to create compelling and aesthetically appealing menus that include photographs of dishes and ingredients. Provide your consumers with an intuitive, modernized user experience and design, as well as exceptional functionality, so they can obtain precisely what they need in the fastest and easiest way possible.
Loyalty: Put yourself one step ahead of the competition by implementing a comprehensive omnichannel loyalty system that authenticates your consumers and allows them to collect and spend their reward points at kiosks. Kiosk data should be gathered, customized, and synchronized with your POS like your other ordering channels.
Upselling Capabilities: Invest in a self-service ordering kiosk that allows you to add cross-sell and upsell recommendations, make menu combination offers, and modify your restaurant's menu to increase average ticket size by up to 30%.
Instant Updates: Increase customer engagement by telling them when their meals are ready or prompting them about bargains, news, and deals available on the restaurant kiosk via personalized SMS, push notifications, or emails. Few things irritate customers more than placing an order, waiting, and then discovering that a portion of their purchase is out of stock. When an item or ingredient is no longer available, your kiosk should reflect this to reduce dissatisfaction.
Payment Options:Look for restaurant kiosks that accept a range of payment methods, including contactless payment, which customers increasingly prefer. A 2020 study 2020 study indicated that 78% of Americans utilize some sort of digital payment, such as digital wallets, in-app purchases, or scanning a restaurant QR code to pay, citing COVID-19 as the reason for the change in payment preferences. A reliable ordering kiosk supplier should be able to support several payment options and payment gateway solutions for your specific markets.
Wrapping Up
There's no denying that a self-service ordering kiosk demands a high initial investment. However, experts expect this trend will not diminish anytime soon. Although the pandemic has passed, self-ordering kiosks are projected to increase in popularity due to the numerous advantages they provide to both restaurateurs and customers.
Originally posted on: Applova.io