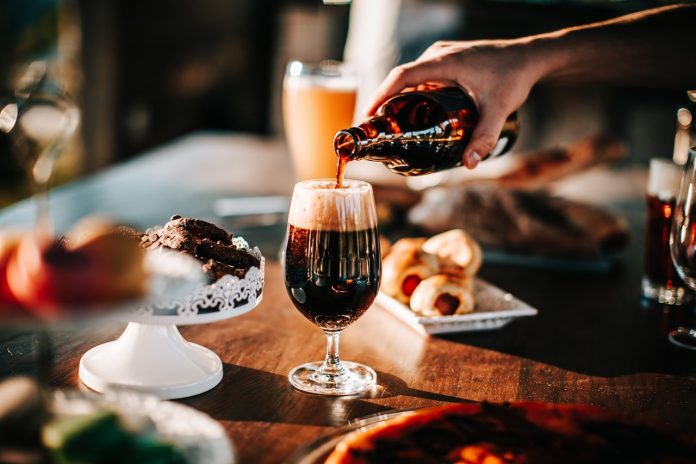 When you think of a beverage to accompany a doughnut, what comes to mind? Coffee certainly. Perhaps milk. But what about beer? The combination of craft beer and sweet doughnuts is a decadent way to explore how beer and food interact. Be it through acidity, alcohol, effervescence or hoppy bitterness, beer slices through oils and fats to refresh the palate in preparation for the next bite. And with local breweries just blocks away from some of L.A.'s best doughnut shops, there are plenty of opportunities to indulge in some experimentation.
The easy entry into the beer-plus-doughnut equation is to go on-the-nose with a coffee beer. Coffee and doughnuts are a comfortable combination, and it's difficult to go wrong. To venture beyond the beginner's territory, here are a few suggestions for doughnut and beer pairings.
Three Weavers Brewing and Randy's Donuts
The starting point for any pairing is to consider the intensity of the food and the beer. Doughnuts are both rich and sweet and not subtle when it comes to flavor. So this isn't the time for a delicate beer. To stand up to the mouth-coating and sugary confections, you're going to need a bold beverage. The higher alcohol and more bitter offerings such as the Three Weavers Brewing Knotty double IPA or Midnight Flight imperial stout are better choices than the lighter offerings that could be lost after a bite of doughnut. Three Weavers brewmaster Alexandra Nowell suggests trying Midnight Flight alongside an apple fritter from Randy's (which happens to be just a couple blocks away from the Inglewood tasting room). It's a combo that works because the beer's coffee and chocolate flavors from dark malts build a bridge from beer to doughnut. And the bitterness of the beer sharply contrasts each sugary bite. At nearly 10% alcohol, and considerably bitter, not even a heavy duty apple fritter will overwhelm Midnight Flight. Randy's Donuts , 805 West Manchester Blvd., Inglewood, (310) 645-4707, randysdonuts.com; Three Weavers Brewery – 1031 W. Manchester Blvd., Suite A, Inglewood, (310) 400-5830, www.threeweavers.la.
Highland Park Brewery and Donut Friend
When you're ready to move on from classic doughnuts, there's Donut Friend, a punk-rock-themed doughnut shop in Northeast Los Angeles that's just a few doors down from the Hermosillo Bar — home of the lauded Highland Park Brewery. At Donut Friend, you can choose a prebuilt doughnut with a punny name or build your own combination of pastries, fillings and topping to craft the perfect accompaniment to your favorite HPB brew. Brewer Grant Scholler's favorite combo is the Angry Samoa doughnut (a cake doughnut with chocolate and caramel topped with toasted coconut) with the brewery's Big No No baltic porter. Similar to Midnight Flight, Big No No relies on roasted malts to complement the chocolate flavors of the doughnut, and it has the elevated alcohol level (about 8.5% alcohol) to stand up to the Angry Samoa. If you get the chance to try Really Big No No — a rare variant of the porter infused with coffee and tobacco — there's not a more on-the-nose pairing for a doughnut.
Highland Park Brewery is best known for its IPAs, and whether you're trying the traditional bright and bitter West Coast style IPAs or the newer, hazy "New England IPA" style, you can find a doughnut to match at Donut Friend. Try the Hüsker Blü cake doughnut topped with blueberry glaze with a West Coast IPA like Hello L.A. or Bonkers. The tropical and often berry-like hop aromas will connect to the blueberries in the doughnut, and the beer's bitterness will balance out the doughnut's sugar. The softer, more fruity hazy IPAs might look like orange juice, but they're a much better match for a doughnut than O.J. Try pairing one with the Hot Rosewater Music doughnut (made with rosewater and lemon glaze with pistachios) or the Yo La Mango doughnut (made with mango glazed with chili and lime zest). Donut Friend, 5107 York Blvd., Los Angeles, (213) 995-6191, donutfriend.com; Highland Park Brewery, 5127 York Blvd., Los Angeles, (323) 739-6459, hpb.la.
Alosta Brewing Co. and the Donut Man
Speaking of fruit on a doughnut, it's strawberry season. And that means the famous strawberry doughnuts from Glendora's the Donut Man are available (and the fresh peach doughnuts are just around the corner). The sweet-tart and extra sticky doughnuts are a local favorite, and there are now a couple of breweries close-by the doughnut shop. Both Alosta Brewing and the Arrow Lodge brew pub are about three miles away in Covina. Try the dry and spicy 1887 Belgian-style tripel from Alosta Brewing with a fresh strawberry doughnut. The Donut Man, 915 E. Rte. 66, Glendora, (626) 335-9111, www.thedonutmanca.com; Alosta Brewing Co., 692 Arrow Grand Circle, Covina, (626) 470-7897, www.alostabrewing.com.