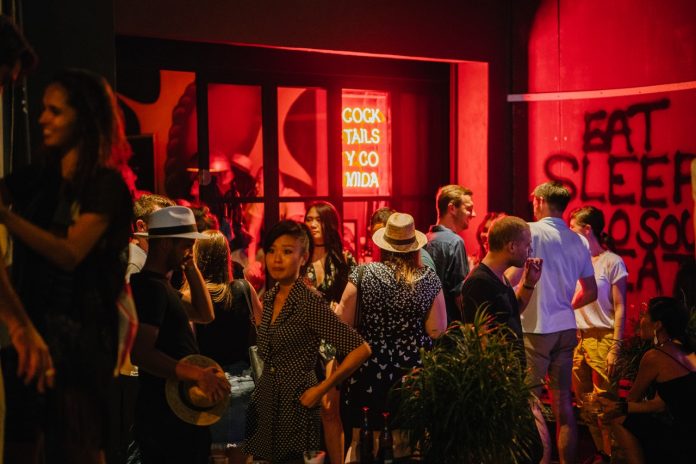 Boia De
In Miami, a neon-lit exclamation point (!) marks the location of Boia De, a funky new restaurant tucked in the corner of a busy shopping center in upper Buena Vista. Opened since June, the hidden gem is sparking excitement amongst foodies with its Brooklyn-cool vibe and modern American fare with a touch of Italian influence. If you find yourself in Miami for Art Basel, Boia De is a must. The retro-modern eatery breathes new life to the neighborhood with its casual fine-dining pedigree, eclectic décor and premium selection of low-intervention wines. With just 24 seats, it's a small operation run by culinary duo (and couple) Luci Giangrandi and Alex Meyer; chefs with equally impressive resumes working in some of New York's most acclaimed kitchens who until recently operated La Pollita, the beloved Mexican taco truck in Design District. Boia De located at 5205 Northeast Second Avenue is open for dinner six nights a week (closed Tuesdays) from 5:30PM to 10:30PM; and Friday to Saturday until 11:30PM. Contact: 305-967-8866 / www.boiaderestaurant.com.
Le Jardinier
Le Jardinier, a modern vegetable-driven restaurant rooted in classic French technique and created by a longtime protégé of Chef Joël Robuchon, opened on August 16, 2019. The casually sophisticated concept was created by Culinary Director Alain Verzeroli, who worked with Robuchon for 21 years and currently serves as Executive Chef of the restaurant's flagship location in New York City. Plants play a prominent role on the menu at Le Jardinier, where local, seasonal fruits and vegetables, fresh herbs and greens are complemented by wild and sustainable fish, meat and poultry. Regional Chef Leo Pablo serves as the day-to-day chef at Le Jardinier Miami, bringing over 15 years of experience in some of the region's top kitchens including Life-House, Stubborn Seed, and J&G Grill by Jean Georges. Located on the first floor of the bi-level plaza (with L'Atelier located upstairs), the restaurant features a lush outdoor dining area. Le Jardinier will serve dinner upon opening, with lunch service to follow. Le Jardinier will be closed on Mondays, open from 6PM to 10PM on Sunday, and Tuesday through Thursday; and 6PM to 11PM Friday and Saturday. Contact: 305-402-9060 / www.Lejardinier-miami.com.
L'Atelier de Joël Robuchon
With locations around the world in cities including Paris, Tokyo, and New York, the South Florida outpost of Chef Joël Robuchon's groundbreaking concept, L'Atelier de Joël Robuchon, opened on August 28, 2019. The highly-anticipated restaurant offers diners modern French cuisine served at a signature 34-seat dining counter that faces directly into the open kitchen, allowing for a dynamic interaction between the chefs and guests, and convivial fine dining experience. L'Atelier's counter seating and menu format meld the interactive sushi counters of Japan and tapas style of service found in Spain, with Robuchon's modern French cuisine. The menu in Miami features several of L'Atelier's iconic signature dishes–including the famed pommes purée–alongside new, ever-changing seasonal creations utilizing ingredients sourced from top local and regional purveyors. The format of the menu at L'Atelier allows diners the flexibility to create their own experience by ordering a la carte or one of the various tasting menu options. L'Atelier will serve dinner from 6PM until 10PM Tuesday through Saturday. Contact: www.LAtelier-miami.com.
Sushi By Bou
Tucked away on the second floor of The Villa Casa Casuarina, within Gianni Versace's former suite, resides Sushi By Bou, an exclusive sushi bar bringing experiential omakase to South Beach. The popular New York City concept is the brainchild of Michael Sinensky and Erika London of Simple Venue which focuses on transforming underutilized spaces within existing hotels into experiential culinary concepts. Guests can choose between a 30 or 60-minute omakase dine in the expanded suite which houses two, four-seat sushi bars with a modern neoclassic style that honors the mansion's existing architecture and original design. Diners are encouraged to arrive early, or stay late, for private access to the G-Lounge which boasts a personal bartender serving up a selection of fine Japanese Whiskeys and craft sake cocktails in the pre-dining space complete with emerald couches and a fireplace. The 60-minute omakase experience includes 17 courses for $125 inclusive of tax and gratuity, while the 30-minute option includes 12 courses for $65 exclusive of tax and gratuity. Additionally, the suite is equipped with an 'instagrammable' self-service sake vending machine where guests can select their choice of three sakes for $40 or add a sake pairing to the experience at an additional cost. Sushi By Bou is located at The Villa Casa Casuarina on 1116 Ocean Drive, Miami Beach. Contact: 305-922-9195 / www.sushibybou.com.
Esotico Miami
The much-anticipated tiki-inspired concept by Daniele Dalla Pola (DDP) and Graspa Group Owner Graziano Sbroggio — Esotico Miami — opened this summer. The tropically chic restaurant and bar offers a spectacular cocktail menu reflecting global influences and overflowing with fresh, original, potent concoctions. DDP is a cocktail globetrotter and a connoisseur of tiki culture. As one of the world's best tropical mixologists, he has traveled extensively, gaining expertise in crafting cocktails inspired by exotic and remote locales, including two of his favorite places: Hawaii and the Caribbean. Esotico Miami's comprehensive cocktail menu contains an assortment of original creations influenced by tiki-cocktail history. The offerings include close to 230 rums, signature drinks, limited edition mugs, large-format social cocktails for sharing, and sections dedicated to Negronis, rum flights, gin and tonics, mocktails, and beer. The varied and eclectic menu, dubbed "tropical chow," tempts the palate with a variety of seafood, meat-centric, and vegetarian options. The sophisticated 3,400 square-foot space in Downtown Miami accommodates 157 people. The colorful décor includes custom-printed wallpaper depicting lush palm trees, muted lighting, and accents inspired by the tropics. Esotico Miami is located at 1600 NE 1 Ave in Downtown Miami. Open Monday-Saturday from 5PM-2AM (Dinner menu available until midnight; late-night menu available from midnight-2AM); Happy Hour and other programming will launch at a later date; Closed Sundays. Contact: 305-800-TIKI / www.esoticomiami.com
ON THE HORIZON
Navé
Since opening Ariete in Coconut Grove in 2016, Chef Michael Beltran has garnered accolades and a ravenous following for his inventive New Cuban-American cuisine. In fact, just recently the restaurant was namechecked by The New York Times as a definitive Miami dining destination. Now, Chef Beltran, together with Ark Hospitality (the team behind Taurus Beer & Whiskey House and The ScapeGoat), is preparing for the fall 2019 opening of his newest concept: Navé. For the restaurant, which is located in Coconut Grove next door to Ariete, Beltran has partnered with none other than Chef Justin Flit of beloved Proof Miami fame to create an approachable menu of unforgettable dishes in an elegant, but casual setting. The menu, still in development, will sport proper technique and bold flavors without venturing far from the integrity of their ingredients and smart sourcing. Diners can expect to find a variety of fresh pastas made in-house, wood-fired pizzas, refined seafood and a raw bar. The cocktail program, under the direction of Beverage Director Bobby Gilardi, will feature
a number of refreshing handcrafted libations.
Press images: HERE
Frohzen
Frohzen, an ice cream shop conceptualized by Pastry Chef Salvatore Martone, a longtime protégé of famed chef Joel Robuchon, will open in October 2019 in Miami's Design District. Known for his boundless creativity and use of innovative techniques, Martone brings his signature sense of whimsy to the menu, which will include unique creations such as ice cream cupcakes, macaron ice cream sandwiches, and ice cream "cakesicles." Frohzen will be located on the ground floor of Paradise Plaza directly across from Le Jardinier, a concept by another Robuchon protégé. More information and images forthcoming.