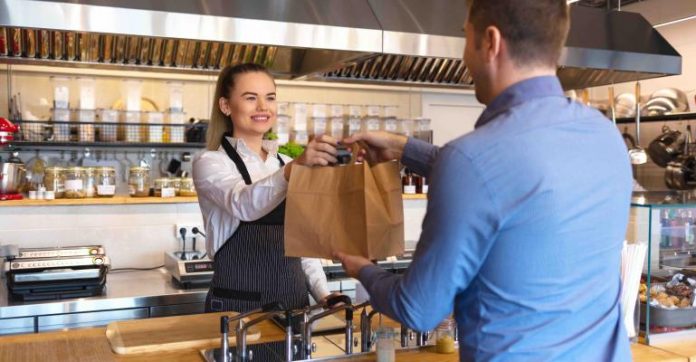 When customers pick up meals, food quality increases, delivery fees disappear, and satisfaction grows.
Restaurant delivery is an amazing customer convenience when the food arrives on time, at the correct temperature and as ordered. But with increased use of third-party delivery services, these service basics are increasingly sub-par, leaving customers disappointed and doubly irritated by delivery fees.
One solution employed by a growing number of restaurants is encouraging customers to buy their food online — typically using a mobile app — and then pick it up in person. The process is known as "buy online, pickup in-store," or BOPIS, for short. The benefits of BOPIS are many for customers and operators, especially if that app uses predictive arrival technology. They include:
When the order is placed, customers know exactly when their food will be ready.
Knowing precisely when a customer will arrive, the operator can fire an order to ensure it's completed on time.
Orders are paid for using the app, eliminating the hassle of onsite payment while still logging loyalty rewards.
Since the restaurant itself captures valuable customer data, upsell and promotional offers can be tailored to customers picking up their orders.
"It's the same thing that happens at a retail store, where you see magazines and candy in the checkout line," says Jaron Waldman, co-founder and CEO at Rakuten Ready, known for their predictive arrival platform, ARRIVE, which allows brands to build innovative pickup customer experiences into their apps. "When customers come inside, you've got a new opportunity to sell a packaged dessert or salad, or bottled sodas. Often, just seeing those items merchandised attractively is all the incentive the customer needs to buy.
"It also reinforces your brand's identity and that interactive experience when they come to your place."ADVERTISING
Time's a-wasting!
BOPIS also meets the needs of customers who don't have time to enter the restaurant or leave their cars. Predictive arrival technology lets the kitchen know when customers are near the restaurant, and where they've parked when they arrive.
"Customers are time starved," says Waldman, "so the notion of standing in a line inside the restaurant isn't appealing. Technology," he adds, "ends that wasted time by meeting customers at their cars as they arrive on premises."
"If they have to wait in line, some feel like they're not saving time," Waldman says.
Restaurants not using predictive arrival technology tend to make mistakes "in the last mile," Waldman says, referring to that moment when customers arrive and orders are completed. He recalls how one client had waiting customers walking inside its restaurants in search of their orders while employees combed the parking lot with those very orders trying to find those customers.
"That's the beauty of predictive arrival technology," Waldman says. "It closes those gaps in the customer experience and saves people a lot of time."
Order accuracy, food quality can suffer when delivered
Over the past several decades, pizza chains have mastered delivery. But restaurants unaccustomed to delivery are struggling not only to figure it out, but also how to absorb high transaction fees — as much as 30 percent of the cost of an order — charged by third-party delivery firms.
According to research from Pentallect, restaurant gross margins on dine-in transactions average 69 percent. Yet that margin crashes to 39 percent when the same meal is delivered via a third-party because of fees.
Third parties also become a key part of the branded customer experience and keep valuable transaction data each operator could use directly to market customers.
Customers also dislike delivery fees. According to research conducted by Tillster, a digital ordering firm, 85 percent of delivery customers do not want to pay more than $5 per delivery — especially when meals take 45 minutes to an hour or more to arrive, and when food quality falls short of expectations.
To avoid those problems, customers are shifting to "buy online, pickup in-store", according to Greenberg Strategy, an Emeryville, Calif. research firm. Eighty percent surveyed say they trust that order pickup ensures their orders are correct, while an additional 78 percent believe pickup results in higher food quality and correct food temperatures.
"In other words, if you get it yourself, it's not riding around in a delivery vehicle getting cold while other orders are delivered," Waldman says. In addition to avoiding delivery charges, operators enjoy additional benefits. "It allows restaurants rather than a third-party to own their consumer interactions and capture that customer information."
Greenberg also found that both in restaurants and retail venues, providing a BOPIS experience creates a halo effect for those brands because users perceive the offer as innovative and helpful. Equally important, customers surveyed say it gives them greater control of their time and a heightened sense of productivity when they're not waiting.
"A feature of Rakuten Ready is that the app tells the customer how long the order will take to prepare," Waldman says. "If it says 30 minutes, 45 minutes, whatever, and you don't want to wait that long, then you cancel the order."
While no operator wants a customer to cancel an order, sharing an honest wait time helps them better manage customer expectations and the flow of business during peak times.
"This helps each party on both ends of the transaction," Waldman says. "Predictive arrival technology provides a vastly improved customer experience."
Let Rakuten Ready enhance each customer experience
In an on-demand world, every minute counts, and the Rakuten Ready ARRIVE platform is built to deliver great experiences that reward customers with time savings and an innovative brand experience. The company's predictive arrival technology makes ordering ahead and pickup work seamlessly every time, dramatically improving the convenience and experience of food pickup.
Find out how Rakuten Ready can help you connect with your mobile-first customers at the exact moment that they need you the most. Their integrated suite of solutions enable "order ahead and pickup" programs to run efficiently at scale, by helping merchants to better meet the needs of today's mobile-first consumer, while driving more traffic to their brick and mortar locations.
Learn more at RakutenReady.com