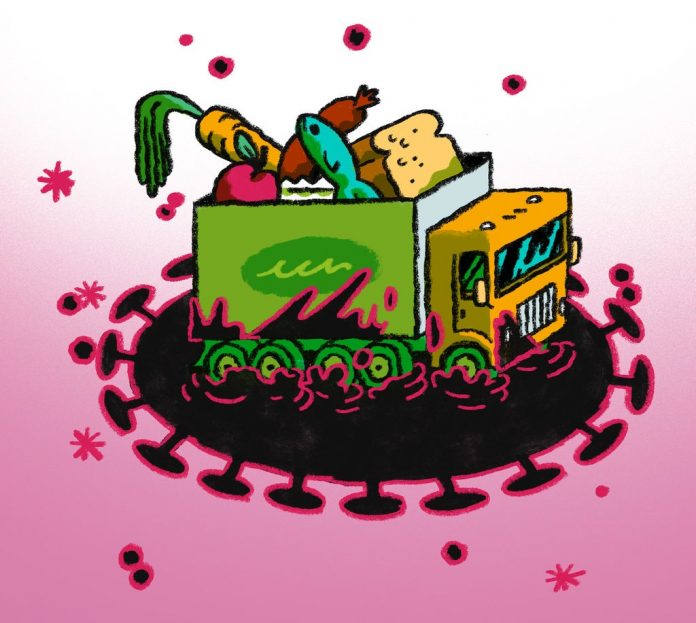 The supply chain has plenty of vulnerabilities.
By Shub Debgupta.
Dr. Debgupta is an economist who focuses on food.
Two terminals for the Port of Houston were shut down for a day this month after an employee tested positive for coronavirus, and Pennsylvania briefly closed most of its truck stops and service areas to slow the spread of the virus, threatening to also slow the distribution of food and other goods. Some meat packagers around the country were at three-fourths capacity because of illness.
In these and other small ways, the coronavirus has begun affecting the nation's food supply chains, raising the potential that as the virus spreads, it will become harder to get food into stores from both American producers and ones abroad.
So far, the worst of the problems in the United States have been temporarily empty shelves at some stores. But the consulting company Fitch Solutions says that it sees "risks at all levels of the supply chain, from production to trade" that could lead to a "re-acceleration in food price inflation globally." The United Nations Food and Agriculture Organization says it expects disruptions in food supply in April and May.
How bad could it get in the United States? What happens in California and abroad could provide a big part of the answer.
The food industry is one of the nation's most labor-intensive. California produces a third of the nation's vegetables and two-thirds of its fruits and nuts. The statewide "shelter in place" order gave an exception to agriculture, but counties are enforcing it differently, and there are concerns about outbreaks of Covid-19 among farm workers. Delays and higher prices could result.
Making matters worse, the food industry relies on more than 200,000 guest workers each year. About 90 percent of the H-2A temporary visas these workers need are issued in Mexico, where American consulates have shut down. Last Thursday, the State Department made the visa process easier for returning workers, but prolonged delays in temporary help could further limit farm production in California.
Domestic production is not the only problem. The United States relies on foreign suppliers for almost 20 percent of its food, including 80 percent of its seafood, with almost half of that coming from Asia, according to calculations by my firm. About half of our imported dairy products come from Europe, also hit hard by the virus. Almost 25 percent of America's cheese comes from Italy, my firm estimates, the nation with the world's highest death toll from Covid-19.
Those imports are at risk. Another threat is that those nations and others will take steps to protect their own food supplies. Last week, Kazakhstan, a major exporter of wheat flour, and Vietnam, the world's third-largest supplier of rice, suspended exports of those products. Because the United States no longer holds national grain reserves, significant parts of the food supply could be jeopardized should food protectionism accelerate.
The United States does have some backstops. When the virus surged here, much of our everyday food and many staples — including chicken, beef, soybeans and dairy — were at or near their highest storage levels. This cushion was partly the result of the trade war between the United States and China.
But the country's complex food supply chains will nonetheless face mounting risks as the virus persists. This will require steps to keep food prices in check and to meet demand.
One potential opportunity is repurposing, for consumption at home, food normally sold to restaurants, hotels and other hospitality locations, where slightly more than half of the nation's food expenditures are made. This could reactivate supply chains catering to those businesses. Otherwise, some of this food, especially fruits, vegetables and other perishable products, could go to waste.
In addition China and South Korea, now believed to be past the worst phases of their outbreaks, offer lessons in how to avoid food supply bottlenecks.
Food producers in those countries built trust by sharing information across the supply chain. They reallocated labor to ease bottlenecks and build reserves in areas where shortages could result. For instance, delivery and retail companies borrowed furloughed staff from restaurants and food service providers. Food production was shifted to areas less affected by the virus. Delivery routes were also redirected through those areas.
And having faced the SARS epidemic in 2003, many food companies in Asia had established plans for business disruption, enabling them to modify packaging, storage and testing to maintain quality and safety despite delays in delivery.
With the spreading virus creating uncertainty, the readiness of the food industry to make rapid changes in how it produces and delivers its products to a nervous population will be crucial. So will the willingness of state and federal authorities to provide flexibility while ensuring food safety and minimizing waste. Coordination among all will be vital.
While the good news is that we have sufficient food production to meet our immediate needs, the next few weeks will be critical to keeping Americans supplied with food during a pandemic that has already caused turmoil and could lead to even more upheaval.
Shub Debgupta is an economist and the founder of Mesh Intelligence, a supply chain risk prediction company focused on food.
The Times is committed to publishing a diversity of letters to the editor. We'd like to hear what you think about this or any of our articles. Here are some tips. And here's our email: letters@nytimes.com.
Follow The New York Times Opinion section on Facebook, Twitter (@NYTopinion) and Instagram.