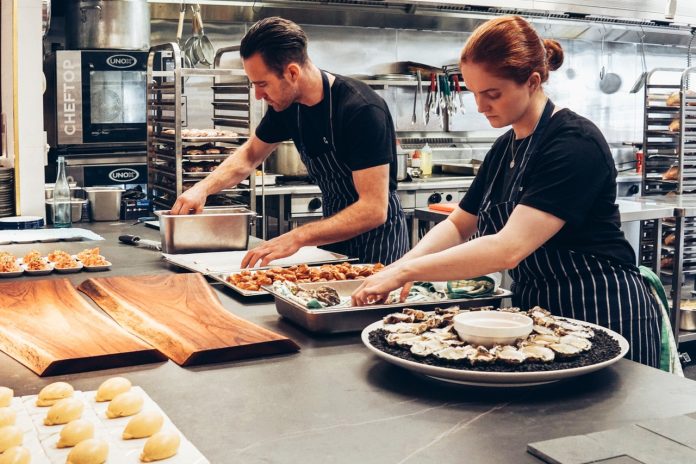 More than any other resource on the planet, time is our most finite. It's the one we can never get more of, the measuring stick for our literal mortality. Time-saving measures, cutting through the nonsense and maximize our current existence are commonplace, at home, at work, and when at our leisure. We often call them "time hacks."
For restaurant operators, this means finding ways to save effort in the front, and back-of-house operations; these hacks shave minutes off of every task. Before we get to the "how" of restaurant time-hacking, we need to talk about the "what." What makes time, more than any other resource, a restaurant operator's most valuable commodity.
Time is Money
The phrase "time is money" is a cliche, but it's rooted in truth. For a restaurant operator, time wasted on preventable mistakes, on re-making botched orders or on inefficient snags, means squandering the opportunity for more orders. That means wasted money.
In the bigger picture, protracted or wasted time can dampen the guest's experience. They may see long wait times in the lobby or at the table. The lousy night out sours their perception of your business, and next time they're making dinner plans, they opt for something else.
As restaurant operators, finding ways to save time in the restaurant workflow can yield big wins: You stand to make more profit, you create a simpler, more efficient workflow and the guests see it reflected in their seamless experience.
So, knowing how vital time is to your bottom line, here are some simple ways to save it in your restaurant operations.
Use Restaurant Data
Before you can truly make improvements to your workflow, you need a way to measure your efficiency as it stands. Restaurant analytics is the practice of using technology, like a Kitchen Display System (KDS) or restaurant reservation and wait list software, to identify your restaurant's metrics like average cook times, wait times, or speed of service data, to identify choke points or problems, i.e. places where these times swell. The benefit of using technology and real-time data is just that: it's real-time, and predicated on your particular restaurant and all of its unique factors.
You can also use this technology to set personalized goals for improvement in your restaurant. Let's say you manage multiple sites and you've got one that's having a problem with orders "dying" in the expo window. You might decide to set a goal so that no order exceeds 2 minutes in that window. The reporting features in your software can show you how well you're doing in hitting those goals, and when you aren't, can help you pinpoint the problem to improve your efficiency.
Perhaps on Thursday nights when those wait times swell, you can open up a second grill. Maybe you can do some staffing maneuvers to put more bandwidth in the kitchen. Bottom line: the best way to make time hacks to your restaurant operations, especially time-saving, is to examine the data and tweak from there.
For even more time-hacking, operations and analytics tools can help you monitor this restaurant data, for one or multiple restaurant sites, on your phone. This saves you from having to be physically present in the restaurant, a time hack in itself. It also gives you a big picture window of how all your restaurants are doing, even when you're not there.
Kitchen Software over Paper Tickets
While the image of the smiling fry-cook, happily tacking tickets to counter is a warm and nostalgic one, it's outdated. For one, paper tickets get greasy in the kitchen. They can fall off the wall, slip, and get lost. They might be challenging to read in the chaos of a busy night.
A KDS has many benefits over paper, in that it takes all those variables out of the equation. Integrated with your point-of-sale (POS) system, it automatically receives a customer's order as they come in. Sending it straight to the kitchen with automated precision, nothing gets lost in the handoff. Furthermore, a KDS will log all this data for later should you need access to a previous order. Digging through a stack of slimy tickets might be your only strategy if you're using paper.
Training and Onboarding
There's no question that restaurant staff turnover plagues the industry. With such consistency, these disruptions become a logistical mess for operators. They must scramble to train new staff up to the restaurant's standards and account for holes in the workforce when an employee leaves.
While an operator can't turn the systemic tide of restaurant turnover, they can minimize the blows as they hit their restaurant. A straightforward way is to enact a consistent and robust employee manual that you maintain regularly. Having an on boarding plan in place will make the process that much quicker, and will help ensure that everyone who comes in, receives the same instruction.
Another way to cut down on the sting of employee staff turnover is by employing software like a recipe viewer into your kitchen. This technology acts as a digital recipe book. It provides image and picture instructions for your menu, which your staff can access in the heat of the moment. This technology helps ensure consistency across sites and a safety net for new and seasoned chefs.
Marketing and Web Presence
The modern restaurant landscape is crowded. In it, concepts of every shape, size, and demographic vying for the fattest slice of real-estate. Restaurant operators may know the importance of marketing to advertise their restaurant. It's no secret nowadays. They may also feel overwhelmed at the prospect of what it entails. Their crowded workloads only compound the process.
Fortunately, you don't necessarily have to hire a marketing team as the principles are relatively simple. By creating a reliable restaurant website, and utilizing the basic tenets of SEO, you can ensure your restaurant comes up in web-searches by the customers most likely to choose your restaurant. A simple listing in Google My Business also helps get your restaurant front and center.
For those with the time, a social media profile, coupled with a content scheduling software (like Hootsuite), can be a channel for you to communicate directly with customers and can work without you even having to be on the website. By front-loading the content and scheduling it to go out at designated times, you can create a steady stream of communication online. These time hacks creates the illusion that you're doing it daily, without carving time out to create content.
Pay-at-the-table and The Simplified Guest Experience
Finding ways to save time in the front-of-house, on the floor, can be tricky. You certainly don't want to rush customers through their meal, so that you can seat more. However, emerging technologies, like pay-at-the-table, help shave minutes off the process, shaking up the old model. Traditionally, the server would take the cash or cards back, swipe them, and brings back the receipt. These technologies help alleviate security concerns a customer might have in relinquishing their card to be taken out of sight. Now they can pay immediately without the server's help, and it generally speeds up the process.
Not only does it help you seat more guests, but it makes things more pleasant for them. They can leave once they receive the bill! You eliminate that awkward second trip for the server.
The Incremental Hinges
Ultimately, finding time hacks in your restaurant comes down to pinpointing critical places in your workflow, and making changes that help you save small bits of time, incrementally. These small time hacks add up throughout the night, and over weeks, months and years, create big yields for improvement on your end as well.
---