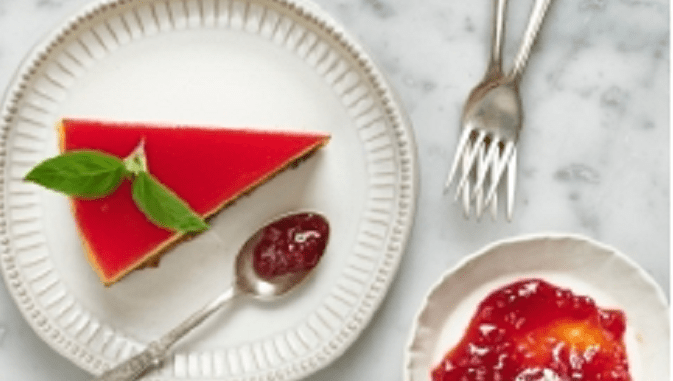 Move over chocolate, there's a new sweet contender seducing our taste buds! When we think of preserved tomatoes, images of pasta sauce, soups, chile and salsas come to mind. Now, fancy Tomatoes for Dessert, yes, tomatoes! They make for fantastic sweet delicacies from Tomato Sorbetto and Jams to a fantastic Tomato Cheesecake. Below you'll find a scrumptious recipe to sink your teeth into provided by ANICAV – the Italian Association of Canned Tomatoes Producers – representing the world's finest European preserved (canned) tomatoes grown under the Mediterranean sun and produced in Italy by time-honored methods.
The Greatest Tomatoes from Europe are not a specific BRAND but European and Italian canned tomatoes in general. Specifically, EU canned tomatoes 100% Made in Europe – 100% Made in Italy and they're as versatile as the savory dishes we enjoy them in such as pizza, sloppy joes and enchiladas. Now, you can create sweet new dessert favorites with The Greatest Tomatoes from Europe!
Recipe:
Tomato cheesecake
Time 1h30m Difficulty Medium Serves 6
The biscuit (base):
* 5 oz biscuits
* 1 stick butter
* 2 cups fresh basil
* For the filling:
* 5 oz sugar
* 4 egg yolks
* 1 lb buffalo ricotta
* Peel of 1 lemon
* A pinch of salt
Extra virgin olive oil
*
For the topping:
* 6 oz tomato passata (pureed tomatoes)
* 1/4 cup water
* 1 tablespoon of sugar
* 1 stalk of celery
* 1 teaspoon salt
* Gelatin
For the biscuit base, blend the butter with the basil. Then crumble the biscuits and add them to the butter and spread the mixture into a cake tin and leave to solidify.
For the filling, whip the egg yolks with the sugar and a teaspoon of extra virgin olive oil. Whisk the ricotta and add it to the yolks. Place the filling on the base and bake in a preheated oven at 350°F for about 20 minutes. Once cooked, leave to cool and proceed with the tomato topping. For the topping, finely dice the celery and add the tomato passata, cook for 8 minutes. Strain and add water, sugar, salt, and gelatin. Boil for a few minutes and then sieve the topping onto the cheesecake and let it cool. For the jam: put all the ingredients in a baking dish, cover with greaseproof paper and cook at 210°F for at least 10 hours, thus obtaining tomato jam.
European tomatoes! The Real Art of Europe! Culinary Masterpieces for You to Try.